We all want to gain a glimpse into different aspects of our lives, and a talk with a good fortune teller can lead you to the path to success in whatever you want.
But, when it comes to fortune telling, there are lots of things to consider.
With plenty of fortune telling websites online, you may wonder whether or not those services are reliable, or if the spiritualist you are interested in is the right one for you. An authentic fortune teller will explain your current situation accurately. Then, from their advice, you'll be able to gain self-assurance within your choice.
So, what to write in a fortune teller?
Keep reading for more details…
How to Make Questions in a Fortune Telling?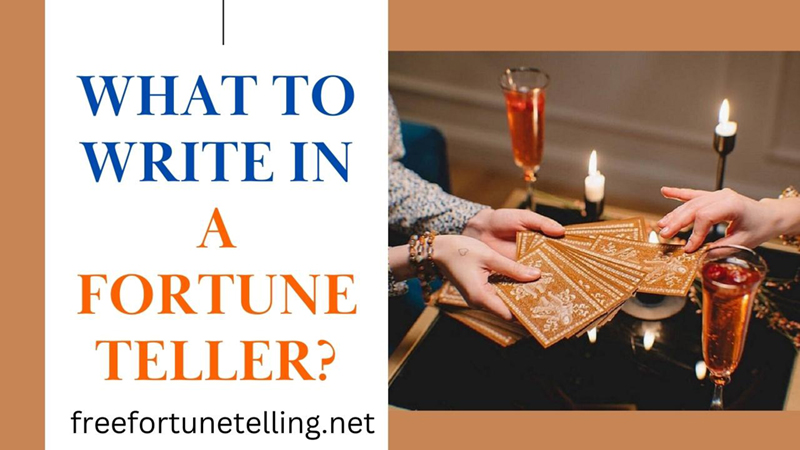 Here are some questions you can ask a fortune teller to learn more about everything in your life, from love relationships to career and health. The genuine guidance will provide you intuitive insights into matters you're longing for the answer.
See also: What is my Chinese zodiac sign?
When having a fortune telling session, it's a must to prepare a list of good questions to gain the most out of it. If you wonder what to write for your fortune teller, keep in mind that people come to see them for various reasons. Not only love issues, they could be dealing with family situations, financial struggles, job changes, or anything else.
For those who plan to get a fortune telling service for the first time, the starting point is to come up with open-ended questions. Try to ask the Wh-questions and avoid close-ended questions. The 'yes' or 'no' answers are too simple and cannot help you get much more out of your reading.
Instead of fixing what is going wrong in your life, the fortune teller's answers can shed light into the situation, comfort you, and guide you to the right direction.
Common Questions to Ask a Fortune Teller
As mentioned earlier, we have different things needed answers from a fortune teller. In case you have no idea, let's have a look at some general questions likely to be asked in a spiritual session:
What should I do to get the promotion at work?
How are my finances in the future?
When will I conceive a child?
When will I meet my soulmate?
What are things you can tell me about my partner?
What should I do for my ex to come back?
When will I get married?
In the following, we're going to discuss different issues and questions to ask a fortune teller…
Love relationships
How can I find my soulmate?
What to do to make my partner stay forever?
Love is the most frequent asked topic, according to spiritual advisors. Most of us are curious to know about our future relationships. Once receiving your questions, the fortune teller will reveal whether or not the person you are in love with is your life partner, or if there is a soulmate waiting for you in the future.
Gifted with extraordinary abilities, they will show significant matters about your love life.
Career
Why do I need to change my career?
What should I do to please my boss?
What can the fortune teller tell me about my job?
How do I know my career path now is good for me?
How can I have a better job?
Is it a good idea for me to start my own business?
How to get the promotion for my job?
For those looking for a job or considering a career change, these questions can give you the answers needed if getting a fortune telling session about career. In addition, their guidance and advice will give you the ideas for a promotion or pay rise.
Read more: Find the free fortune telling online real in 2022
Health
Should I change my diet?
What do I need to know about my diet?
What things should I do for a healthy life?
How to avoid bad habits?
What things should I remove from my diet?
As human beings, we tend to have great concerns for our health. Seeing the doctor for frequent check-ups is a must; however, there are some individuals also prefer getting reassurance from the fortune teller.
Future
What lucky numbers do I have?
What do the spirit guides have for my future?
Is there any chance for me to win the lottery?
What should I do to have much money?
What questions do people ask a fortune teller about their future?
In most fortune telling sessions, the expert usually has some questions about the future for you. Indeed, all the questions I've mentioned in this article are future-based. But, I believe some of you do want to more details about your future rather than just general questions, right?
Those inquiries about the future will offer you a sense of whether your life will change positively. Will it be happier, more fulfilled, and more abundant? Or, what should you prepare once knowing difficult times may lie ahead.
When You Don't Know What to Ask a Fortune Teller…
What to do if you don't know what to ask during a reading?
Once planning to talk with a fortune teller, it's significant to have a good preparation. Before the session starts, you're suggested making a list of things you worry about or look for answers.
What are you concerning about your life?
Do you have any questions about life aspects, such as career, health, family, love life or friendships?
Is there anything you'd love to have in your life?
Is there anything you'd like to remove from your life forever?
Or, if you don't feel comfortable when chatting with a psychic advisor online, you can write all of your questions to the email. They'll read your energies and send you the reply within 48 hours.
In Conclusion
Generally speaking, what to write in a fortune teller?
Asking the best questions is really essential when getting a fortune telling session. By that, you will gain right decisions for any of your problems. The fortune teller can easily reveal needed information as well as foresee your future. You can ask them for insights about different issues – it could be related to your boyfriend or your future career.
Once knowing exactly what inquiries you want to ask, you will gain the most from a reading.