Some are very skeptical about the accuracy of astrology because they think it doesn't reflect their personality correctly.
When it comes to astrology, there are many elements and aspects.
If you want to get your personality analyzed, then just your sun sign is not enough.
Usually people tend to assume sun signs are everything of astrology. After all, we all like that; for example, aside from reading general horoscopes for our astrological sign, we rarely spend time researching further and deeper about this realm.
In fact, if you expect clear insights about astrology and how it affects your characteristics, then you must take in-depth look into your rising sun and moon sign.
So, what is my rising sun and moon sign?
Get your answer in the following!
The Meaning of Your Sun, Moon, and Rising Signs
I believe most of you know what your zodiac sign, right?
Even if you are not really into astrology, you may at least have a glance at your horoscope once. Predictions based on your date of birth will help you gain basic ideas about your current situation as well as know what may await you in the future.
There are some points in life that all we need is the spiritual guidance from the stars.
Why should you know your rising, sun, and moon signs?
By combining the meaning of three signs together, you will understand yourself better. Each of them rules different parts of your personality, so much knowledge about these signs will give you clarity related to your nature.
Sun Sign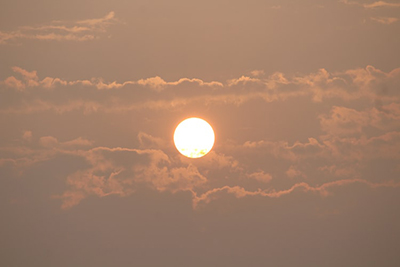 The sun is undoubtedly your identity, astrologically. By knowing your sun sign, you'll be able to approach the exact level of your true self. It is what your daily, weekly, monthly, and yearly horoscopes are based on.
When an individual wants to learn about themselves through astrology, they definitely look to the sun sign at first. If people ask your star sign, they actually want to know your sun sign.
How your sun sign is determined?
According to astrologers, one's zodiac sun sign is based on the sun's position at the exact time they were born. You just need to know your date of birth to figure out your sign.
Like the earth moving around the sun, the sun sign represents you.
Have yourself a future predictions for 2020 with just a click!
If you're an air sun sign (Gemini, Libra, and Aquarius):
You are the type of person intellectual and often come up with creative ideas. Sociable and easygoing, you are truly a social butterfly and love to make friends. No one enjoys freedom better than you!
If you're a fire sun sign (Aries, Leo, and Sagittarius):
You are fierce and passionate than anyone else. Due to your competitive nature, you get motivated easily. Very independent, you can pursue your goals on your own and never prefer following the crowd.
If you're an earth sun sign (Taurus, Virgo, and Capricorn):
For sure, you are a materialistic and practical individual. No matter what you do, you pour your heart into it – no wonder you are productive in work. Shy and reserved in nature, you find it hard to open up to everyone.
 If you're a water sun sign (Cancer, Scorpio, and Pisces):
You are very emotional and sensitive, so intentionally or not, you can get hurt by others at certain times. Gifted with a strong intuition, you are good at judging people at one glance.
Moon Sign
Then, what does your moon sign imply?
Unlike the sun, the moon is described as the subconscious side of yourself that you have tendency to hide unknowingly. Put it simply, your moon sign relates to your emotions, desires, and fears.
As connected with your emotions, understanding the moon sign will help you find pleasure and happiness, clear away pain and sorrow, as well as get advice on how to nurture and touch your spiritual self.
It is believed that your moon sign reflects your true self on a deeper level.
In order to determine your moon sign, you must know the exact position of the moon at the time you came to this world. Aside from your birth date, you must also remember the time zone to calculate your moon sign.
If you're an air moon sign (Gemini, Libra, and Aquarius):
You can adapt well with any change and usually display a discerning and objective attitude to all changing experiences. Even your inner self is confident when it comes to expressing ideas publicly or making social interaction.
If you're a fire moon sign (Aries, Leo, and Sagittarius):
The way you react to changes is full of excitement. You always want to live a fullest life and discover new things, so changing experiences are surely something that you will never miss out. Your inner self is at its most confidence when you show strength and express your competitive side.
If you're an earth moon sign (Taurus, Virgo, and Capricorn):
It's not easy for you to adapt changes; therefore, you often display steadiness and stability when dealing with every changing experience. You and your inner self are one when you put your mind in work. At any cost, you want to be productive and will strive for ultimate goals.
If you're a water moon sign (Cancer, Scorpio, and Pisces):
The core feelings of you are sensitive and emotional. You think deeply in all circumstances and always put your heart on sleeves. You fall hard and love hard, but it's essential to give yourself priority.
Rising Sign
Your rising sign (also known as ascendant sign) represents your social personality, physical appearance, and outward style. If the sun sign is your core self and moon sign reflects your inner world, then this sign shows the energy you send to the outer space.
In other words, the ascendant sign is the mask you put on when hanging out with others – it's more like showing what you want people to think about you.
One must know their exact date of birth, time and place of birth in order to find out their rising sign.
If you're an air rising sign (Gemini, Libra, and Aquarius):
Mentally you are friendly, outgoing, and inquisitive. As an intellect, you have no problem in expressing yourself by words; also, you're capable of reacting quickly when it comes to solving issues.
With an infamous curious nature, you approach life to fulfill your desire of understanding the meaning of everything and getting to know the deepest part of every person.
If you're an fire rising sign (Aries, Leo, and Sagittarius):
Fierce and determined, people often think of you as an action-oriented and blunt person full of confidence. Your purpose in this world is to make others realize your value, so you tend to approach life with great vitality.
If you're an earth rising sign (Taurus, Virgo, and Capricorn):
You are the kind of person focusing on the matter of fact initially. Very practical, you don't want to waste time in imagination; instead, you prefer to concentrate more on the material world.
No matter how chaotic this life is, your approach in everything is steadfast and consistent.
If you're a water rising sign (Cancer, Scorpio, and Pisces):
Under the influence of water, you are extremely sensitive and empathetic. Additionally, your mood is easily changed based on the surrounding environment. Due to that, your approach way to life is inconstant and depends on your feelings per day.
Grow more plants if you want to heal your mental state.
In Conclusion
So, what is my rising sun and moon sign?
For anyone who want to determine your rising, sun, and moon signs, please keep in mind that your birth date, birth time and location play a critical role. If these information aren't correct, then the result will be wrong.
Especially with the rising sign, your time and place of birth have to be absolutely accurate. Nowadays, there are plenty of websites offering the calculator for your sun sign, moon sign, and ascendant sign.
Clear insights and clarity via your birth chart are no longer a trouble.
If you are planning to gain in-depth understanding about your personal astrology, then why don't you start enhancing a better awareness of the rising, sun, and moon signs from today?
For more information about this topic, don't hesitate to leave your comment in the following chat box.
Have a happy exploring time!